SEE THE LATEST INNOVATIONS IN HAND SURGERY BY JOINING EXSOMED'S MOBILE TRAINING AND CADAVER LAB
Come and see what other hand surgeons are raving about in metacarpal fracture repair - the INnate™ intramedullary nail

Specifically sized for metacarpal intramedullary canals: 2 dual diameter options (4.5/4.0mm and 3.6/3.2mm) in multiple lengths.
Innovative dual diameter design for superior fit in neck and isthmus
Designed for ease of use to complete typical fracture stabilization procedures in under 10-15 minutes
The only non-compression option, designed to avoid shortening of oblique and comminuted fractures
You can learn all about INnate by attending one of our mobile training and cadaver labs
Our knowledgeable staff will personally come to your facility and provide a complete surgeon education and cadaver lab training experience within 15 minutes.
On-site at your facility

At your convenience

Quality, hands-on training
Safe, clean environment

Learn the latest innovations in hand surgery in 15 minutes!
September:
8/30 - 9/3
Albany
South Texas

South Florida

Philadelphia, PA

9/6 - 9/10

Massachusetts
Houston, TX

Florida Panhandle

Newark, NJ

Southern California
9/13 - 9/17

Massachusetts
Austin, TX
Mobile, AL / Biloxi, MS
New York City, NY
Southern California
9/20 - 9/24
Maine
Connecticut
Central California
October:

9/27 - 10/1
ASSH - San Francisco, CA
10/4 - 10/8
Oregon
Northern California
New York City, NY
10/11 - 10/15

New Hampshire
Reno, NV
Nashville, TN
Baltimore, MD
Idaho
10/18 - 10/22
Vermont
Las Vegas, NV
Knoxville, TN
Washington, DC
Montana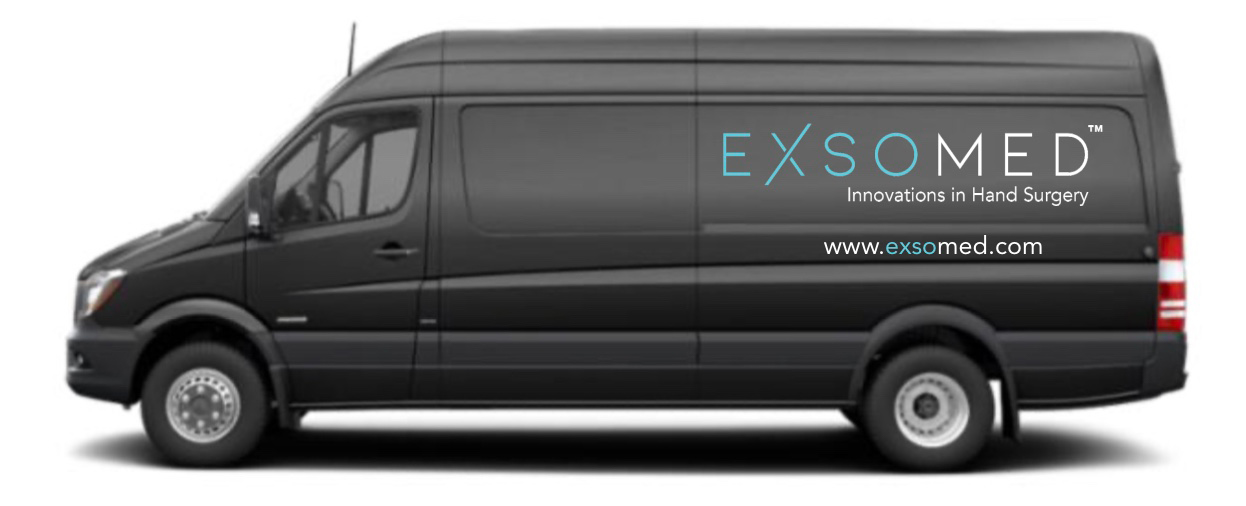 If the listed dates and locations do not fit your schedule, please let us know your availability on the registration form. One of our Regional Clinical Directors will reach out to you as quickly as possible to coordinate a date and location that would best accommodate your schedule.
*Dates and locations are shown approximately 2 months in advance and subject to change.
Here's what you can expect
ExsoMed follows guidelines set forth by the Centers for Disease Control (CDC) to ensure your safety during the cadaver lab. We have implemented enhanced cleaning protocols, and disinfect high-touched surfaces throughout the day and between each lab. In addition to maintaining the cleanliness of all equipment, we also limit both the number of persons and time inside the facility to further minimize contact and exposure.
Please be aware that we will perform a brief screening, and ask that you wear a face covering at all times unless otherwise instructed.
Complete Cadaver Lab at Your Front Door
All you need to do is show up! Each ExsoMed mobile lab is fully equipped with all the necessary tools and specimens for a complete training experience:
Smart-C Imaging System

Power Set

Product

Installation Kit, including measuring device, K-wires, driver

Scalpels and other surgical instruments (osteotomes, mallets, surgical clamps)

PPE (mask, gloves, drape, gown)
Knowledgeable staff will provide private, personalized training in our mobile lab at your convenience. Ask questions, learn various placement techniques of ExsoMed products, gain hands-on practice. It is like having your own dedicated cadaver lab.
INnate™ Intramedullary Threaded Nail

INnate is designed specifically for metacarpal fractures to provide surgeons with a reliable solution through a simple, minimally invasive approach. The robust length offering with a differential diameter design is intended to accurately fit the intramedullary canal and to create stable fixation and precise reduction for all types of metacarpal fractures.
Use of the INnate Intramedullary Threaded Nail for Displaced, Spiral Oblique and Transverse Fractures of the 3rd, 4th, and 5th Metacarpals
Timothy E. Iorio, MD OhioHealth Physician Group, Columbus, OH
Patient was a 62-year-old right-hand-dominant male laborer who suffered an impact injury to his metacarpals when he fell and inadvertently struck the floor with his left hand. He had a midshaft spiral oblique fracture with displacement to his 3rd metacarpal, a midshaft transverse fracture with displacement to his 4th metacarpal, and a midshaft spiral oblique fracture to his 5th metacarpal. Patient needed stable fixation, rotational alignment, and immediate range of motion (ROM) to get back to work as soon as possible. To learn more about ExsoMed, visit us at www.exsomed.com.

ExsoMed is a privately held medical device company providing orthopaedic surgeons with innovative solutions in hand surgery. We believe that our solutions raise the standard of care in hand surgery by providing state of the art surgical tools that streamline use in the operating room, reduce the global cost of care, and enhance outcomes so that patients can get back to life faster. To learn more about ExsoMed, visit us at www.exsomed.com.
Copyright 2021 ExsoMed Corporation | All rights reserved